Financial Planning Services in Corning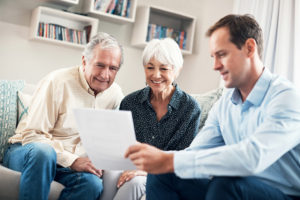 Experts estimate that the average person needs between 10 and 12 times their income in retirement savings, but a full 34 percent of Americans have done absolutely no financial planning. Another 58 percent think that their savings and investments are lacking. Planning for your financial future is important, and it doesn't have to be difficult. At John G. Ullman & Associates, we specialize in helping our clients create customized plans that help them reach their financial goals.
Dedicated Experts
Finances are a very personal thing. Everyone starts their financial planning at a unique place, and most have different goals for their futures. Figuring out how to make that happen can take some time — and several conversations — and that's why we build this into our process. Your financial planning advisor will discuss your financial and personal goals — for right now and years in the future — and then help create a strategy that maximizes your money and minimizes your stress.
A Thorough Financial Plan
Whether you want to start investing young or are looking at retiring in a few years and want to make sure you're ready, your advisor will ensure that your financial plan is as thorough and tailored to your needs as possible. While each scenario is unique, here are a some typical issues that come up in the financial planning process:
Cash Flow Analysis
Education Planning
Employee Benefit Analysis
Estate Planning
Generational Planning
Goal Setting/Statement of Net Worth
Medical and Custodial Care Planning
Mortgage and/or Insurance Research
Retirement Analysis
Risk Assessment/Management
Survivorship Analysis
If you're not sure if you need to worry about things like custodial care or survivorship, that's okay. Your financial planning advisor will go over each point to see if it's relevant to your specific circumstances and then customize your financial plan accordingly.
Contact Us to Schedule Your First Appointment
If you're ready to start taking control of your financial future and want to get some expert help to ensure you're headed in the right direction, the offices of John G. Ullman & Associates can help. Contact us today at 607-936-3785 to get started.