Urgent: John G. Ullman & Associates, Inc. has been notified by Schwab that they are actively responding to a large-scale phishing scheme within their organization.

Clients may receive fraudulent emails that appear to be sent by Schwab's fraud and security departments. The email provides a link to a legitimate-looking Schwab website and prompts clients to provide personal information and a copy of their government-issued ID. Schwab has reportedly seen several variations of the email. Schwab reiterates that they would never ask clients to provide information by email; therefore the communications are not from Schwab. They are diligently working to have all linked websites shut down immediately.
This is one example of the type of phishing email Schwab clients have recently received: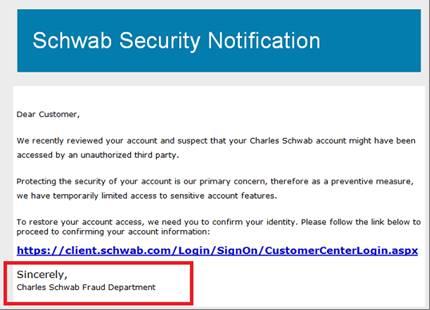 What should you do if you receive a suspicious e-mail?
DO NOT click links within the email and DO NOT provide any personal information.
If possible, attach the suspicious email to a new email (do not forward and send it to your Account Executive.
For our part, the team at John G. Ullman & Associates, Inc. is monitoring this situation and we will notify our clients should there be any additional cause for concern. We do recommend as a best practice, for your security, that if for any reason you suspect an email may be fake please do not open it. We'd recommend that you log on to the bank or organization's website if you receive suspicious email communications or call them to confirm if the email was legitimate.
As always, please don't hesitate to contact us if you have any questions or concerns.